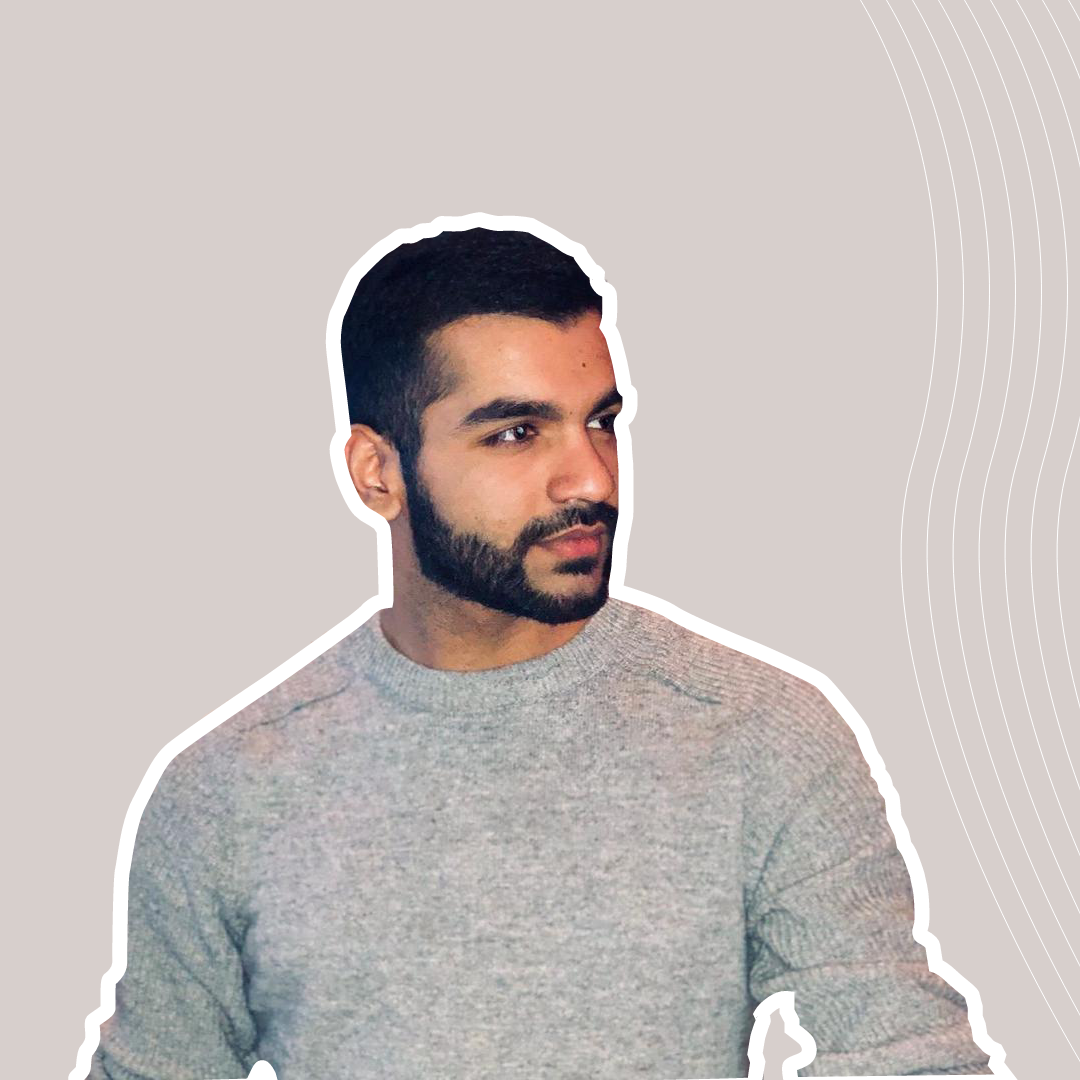 Gurwinder Virk
UX/UI Designer
About AnalytIQ
AnalytIQ is a brand new accounting firm based in Mississauga, Ontario.
Their objective is not only to provide the typical service but to do it in an innovative approach while supporting small businesses' growth.
The company only had a logo and an office when I got approached by them.
My Role
As a UX/UI Designer and Digital Marketer, my role was to provide AnalytIQ with a website, a brand style guide, and a Digital Marketing Strategy.

Problem
Being a new small-sized business, AnalytIQ has to deal with numerous local competitors, as well as the big names in Toronto.
The company's limited financial capabilities and lack of brand awareness made this task even more challenging and because of this, a high degree of creativity needed to be implemented.
Solution
To tackle the problem, the first thing that I needed to do was to design a website that could reflect the company's personality. I wanted to make sure that AnalytIQ would be able to communicate their innovative approach to accounting.
Secondly, a brand style guide that could differentiate the company from the competition was needed.
Finally, to increase brand awareness AnalytIQ needed a Digital Marketing Strategy, which included SEO and Social Media
Understand
The first thing I wanted to do was to understand and define AnalytIQ's core identity and the message they wanted to communicate.
After gaining a more in-depth knowledge of the client's vision, the next step was to clearly identify the main users of the website.
To do so, I relied on my Marketing background to create a target market, which included Demographic, Geographic, Psychographic, Behavioural, and Technological characteristics of the ideal user.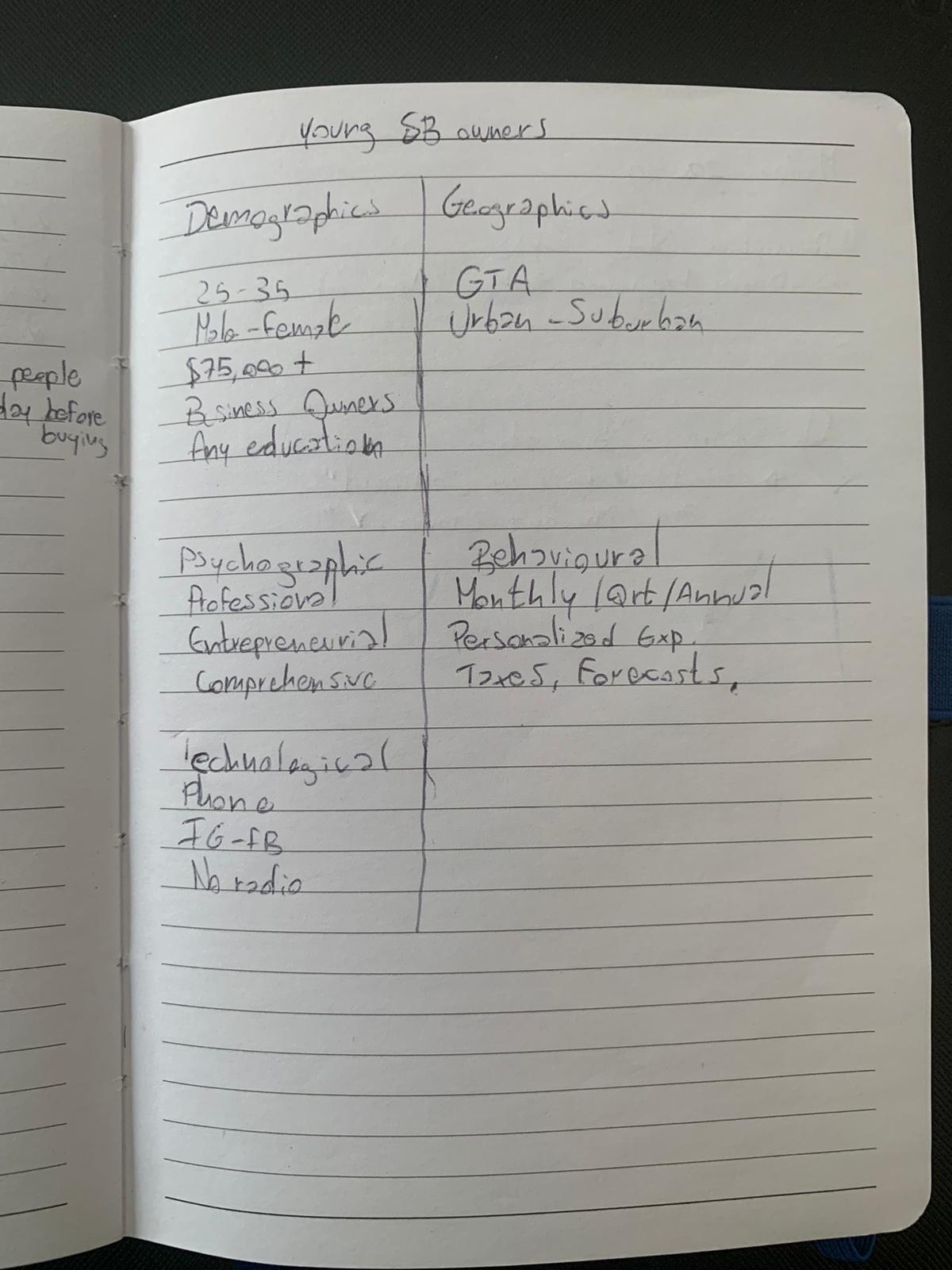 Research
Due to time constraints, we were not able to conduct extensive primary research.
However, we did analyze competitors' websites to determine what overall look and information users expect to see on an accounting company's site.
Design
Out of all the information gathered on the competition, the next thing to do was to pick and choose which sections/features were absolutely necessary to entice the main target segment.
I wanted users to know that AnalytIQ values their limited time by having a simple, easy to navigate, and straight to the point website.
In addition, I wanted to make sure that the main message the company wanted to communicate was immediately visible, hence why the About Us section is the very first thing users see when they start scrolling.
Wireframes were mostly used to show the website's layout to the client without any distractions and were not used for testing purposes.
For the high-fidelity mockup, I decided to adopt a fresh take on the typical corporate design.
I wanted users to take the company seriously without feeling overwhelmed. To do so, I decided to play with gradients to make the page more visually appealing compared to the competition, while maintaining a corporate type of layout.
The entire project was designed on Adobe XD.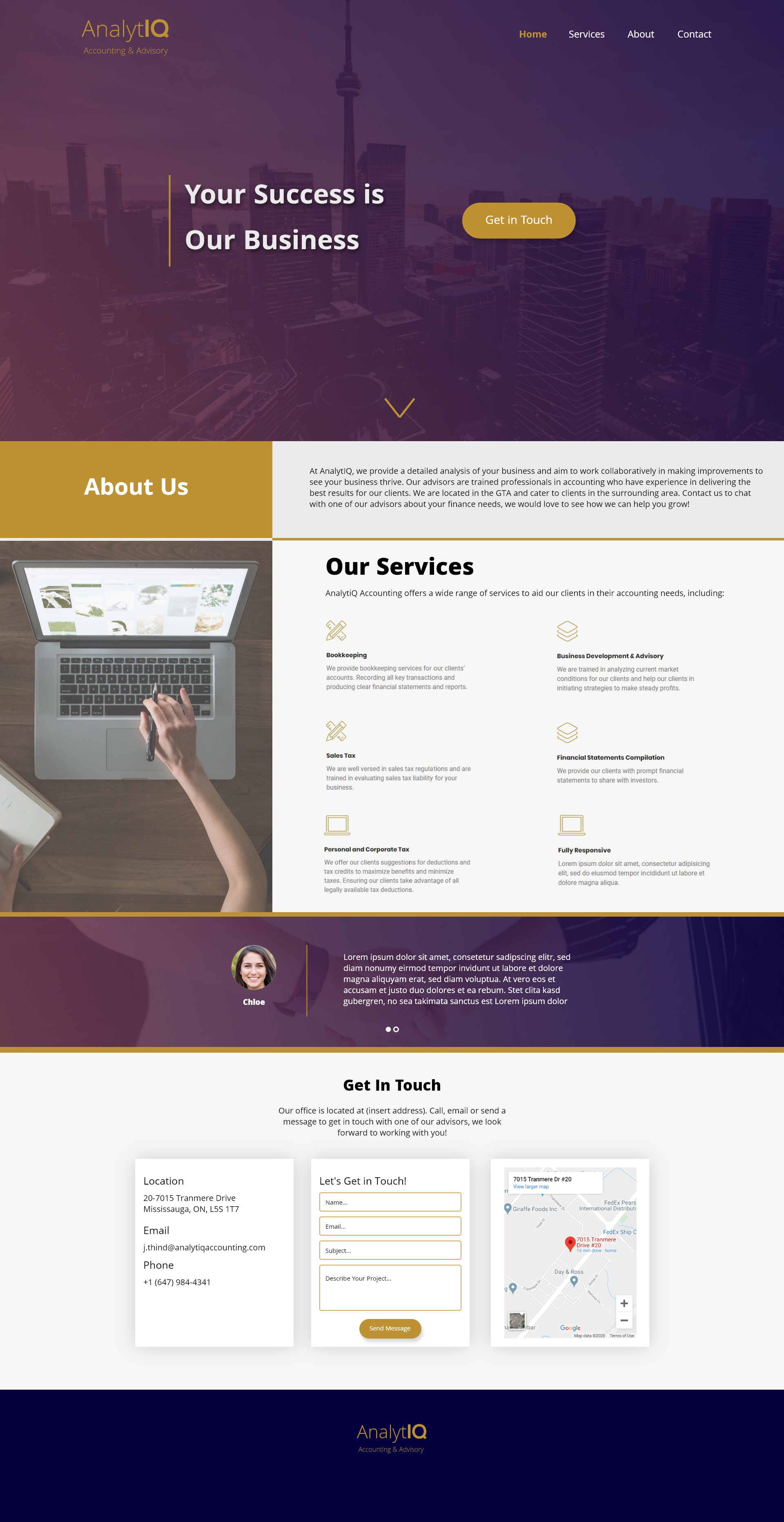 User Testing
Before launching the product, I did a testing round in order to reveal possible usability problems.
The main thing I wanted to find out from this was whether if users were able to retrieve information easily out of the website and identify the type of business AnalytIQ is at first glance.
The test was conducted right before implementation in order to make some last-minute changes if necessary.
The responses that I got from this process were very positive. Users described the website with words such as "simple", "straight to the point", "easy to navigate", etc. which was exactly the type of feedback I was looking for.
Implementation
After the usability testing was completed, it was time to launch the website.
When everything was ready to go, I handed the design over to a developer to make it live.
In the weeks following the launch I kept analyzing the website performance and suggesting changes and things that could be perfected to the client, showcasing my passion and involvement for this project.
This led to 50% more leads
What I have learned from this project
First of all, I just want to say that it all started as a passion project. I wanted to learn and experiment, and I'm extremely grateful to AnalytIQ for giving me this opportunity.
I genuinely wanted to help this company to grow because I really believe in their mission and I love the way they operate.
The main challenge that I had was to find a way to make an accounting website that is interesting and appealing to the younger demographic that AnalytIQ is targeting.


The way I believed I have achieved so is by deciding to exclude complex information and going for a simpler layout. I also made sure to include call to actions to encourage users to get in touch with the company, in case they had specific questions.
Overall, I am really satisfied with the outcome of this project and it has been a great learning experience.
"What Gurwinder has done for us is invaluable. He genuinely cared about the project and the final result shows it"
J. Thind, AnalytIQ Accounting & Advisory